Tovah LaDier
Executive Director
Tovah LaDier is the Executive Director of IBIA, where she leads IBIA's public policy advocacy and education and outreach activities. Tovah works closely with Congress, the agencies and Administration, and key stakeholders in the technology industry, user communities, academic and think tanks. She also is the industry representative in national and international standards organizations, as well as a media spokesperson.
Tovah has wide-ranging national and international experience working with business, government, the academic and policy communities, and the media. Before joining IBIA, she was a corporate attorney, lobbyist, and strategic consultant. Tovah also served as the executive director of the Mansfield Foundation, a think tank dealing with United States-Asia issues, and spent considerable time living in and traveling to Asia on economic, political issues, and cultural issues, particularly Japan, China, Hong Kong, and Singapore.
She is a member of the District of Columbia Bar and received her Juris Doctor degree from the University of Washington School of Law where she studied in the Asia law program.
---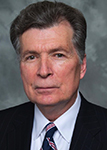 Christopher Monek
Director of Operations
Chris is a business executive, consultant and attorney with successful experience providing strategic leadership to non-profit organizations. He is an accomplished spokesperson, negotiator and liaison for organizations. He has works successfully with association leaders and their member company executives at all levels; with federal, state and local government officials; with Fortune 500 executives; and with members of the legal profession. Chris has proven ability to design and implement aggressive operational goals and to set and meet challenging financial objectives. He motivates a diverse and talented staff and can leverage relationships within the organization to resolve complex and key issues, and in many instances to "do more with less".
---

Michelle Brown
Project Manager
Michelle is currently working with the International Biometrics + Identity Association team managing daily operations and special projects.
Michelle Brown is an operations specialist with extensive experience in management and administration. She has successfully supported companies, including her own brick and mortar, in the Washington DC Metropolitan area for over 20 years. Michelle has excelled in a variety of roles while working in industries as diverse as alternative energies, wild birds, and local foods.
Michelle is a unique asset to any project, program, or initiative. Her ability to play a leadership role in multifaceted situations means that she consistently gets results that improve margins, boost performances, and maximize efficiencies.
Her degree is in Education from Manchester College. She is proficient in software for Accounting (primarily Quick Books), Project Management, Office, and CRM.